[English Below]
Iha loron 2 de Marsu 2021, Adventist Development and Relief Agency (ADRA) Timor-Leste liu husi Viqueque Sustainable Agro-Enterprise Farmers to Market (FarMar) Development Project hala'o eventu Asina Akordu (MoU) ho Secretaria De Estado De Cooperativas (SE Coop). Objetivu husi akordu ne'e atu hahú servisu hamutuk entre SE Coop, liu-liu Direção Nacional Dezenvolvimento do Setor Cooperativa no ADRA Timor-Leste liu husi fasilita formasaun Báziku no Espesialidade Kooperativa  ba grupu agrikultór sira ne'ebé hetan apoiu husi projetu FarMar iha tinan tolu (3) nia laran. Grupu hirak ne'ebé mak transforma ba kooperativa durante ne'e sira-nia prioridade produsaun mak hanesan ai-lia, kami, nuu no maek.  Alende ne'e mós grupu sira involve hotu iha atividade rai no empresta osan.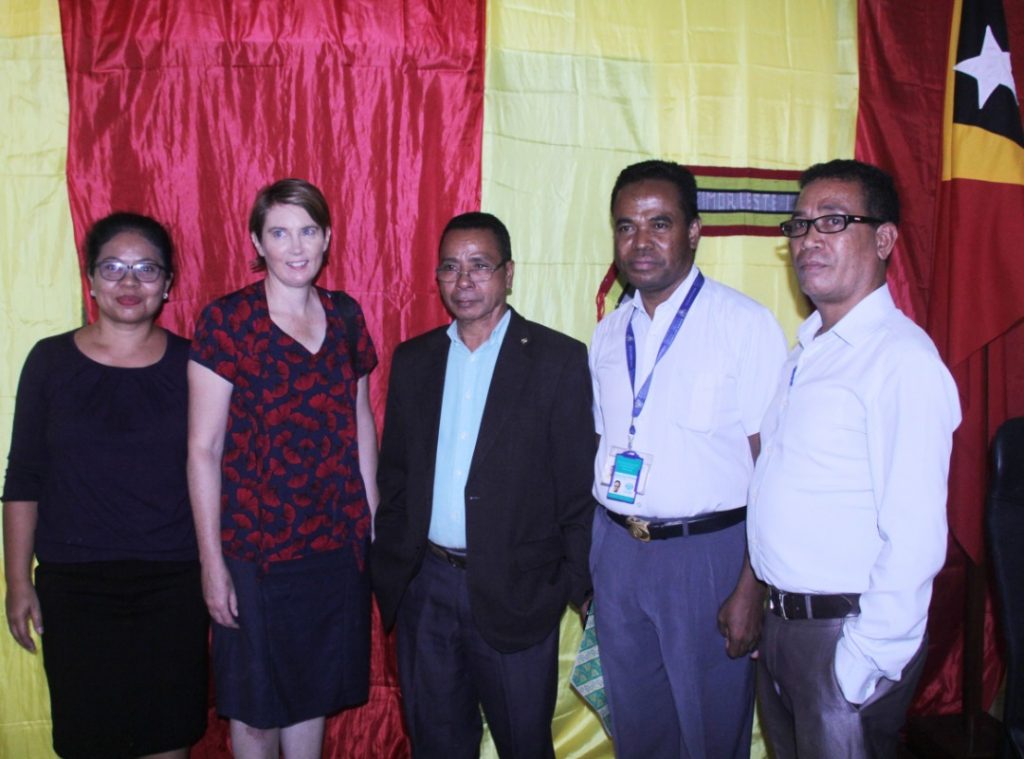 Eventu ida-ne'e marka pasu ne'ebé importante ba parseiru servisu entre organizasaun ADRA Timor-Leste no instituisaun governu, liu husi SECoop atu bele aselera transformasaun husi grupu agrikultor informál ba instituisaun kooperativa ne'ebé mak legál tuir konseitu dezenvolvimentu iha país Timor-Leste. Etapa ne'e marka fase ida ne'ebé bele asegura sustentabilidade moris komunidade iha future liu husi kooperativa. Kooperativa ne'e nia funsaun ba oin sai fatór importante iha nivel suku atu bele halibur no organiza produsaun agríkola kada suku depois buka informasaun no mós liga ba merkadu no sosa na'in iha nivel nasionál.
Projetu FarMar hetan apoiu husi governu Nova Zelándia (MFAT New Zealand) no mós implementa parseria ho MAP no IADE Viqueque. Projetu FarMar sei la'o ba tinan lima nia laran to'o 2023 no servisu ho uma kain agrikultores na'in 1.500 iha suku 15 iha munisípiu Viqueque.
Projetu nia objetivu mak "atu hamoris ekonomia rural iha Viqueque liu husi agro-empreza orientadór ba merkadu no hadi'a seguransa alimentár iha Timor-Leste." Projetu sei liga agrikultores ba korrente merkadu; hasae produsaun agrikultura, prosesamentu, venda no rezerva finanseira; no hadi'a família nia bem-estar.
Se karik presiza atu hatene liu tan kona-ba projetu FarMar no mós oinsá ita bele kolabora bele hakat mai edifísiu ADRA nian iha Viqueque no Dili, no mós bele kontaktu 75323130 (ADRA Viqueque) ka 77343963 (ADRA Dili).
PRESS RELEASE
On 02 March 2021, Adventist Development and Relief Agency (ADRA) Timor-Leste through Viqueque Sustainable Agro-Enterprise Farmers to Market (FarMar) Development Project held an Agreement signing ceremony (MoU) with the State Secretary for Cooperative (SECoop). The purpose of the signing of this agreement is to initiate working cooperation between SECoop, particularly National Directorate for Cooperative Sector and ADRA Timor-Leste by facilitating Basic and Specific Cooperative training to the farmer groups which supported by FarMar project for 3 years. The groups which transformed to cooperatives have being produced gingers, coconut and candlenut. In addition, these farmer groups also involved in saving and loan.
This event has marked an important step in working partnership between ADRA Timor-Leste Organization and government institution, through SECoop in order to speed-up the transition from informal farmer groups to more legal cooperative institutions based on the concept of development of the Timor-Leste state. This step marks an important stage to ensure sustainability of the community life in the future through cooperatives. The function of this cooperative will be an important sector at the Suku level to collect and organize agricultural production in each Suku and seek for information to link them with the market and buyers at national level.
FarMar project is supported by New Zealand government (MFAT New Zealand) and in partnership implementation with MAP and IADE Viqueque. FarMar project is a five year project that will be run until 2023 and work with 1,500 farming families at 15 villages in the municipality of Viqueque.
The objective of this project is "to revive rural economic in Viqueque through an agro-enterprise market orientation and improve food security in Timor-Leste." the project will link the farmers to market chain; increase agricultural production, processing, vendors and financial reserve; and improve family well-being.
To know more about FarMar project and how to collaborate, please visit ADRA Office in Viqueque or Dili, or contact 75323130 (ADRA Viqueque) or 77343963 (ADRA Dili).
---
Photo Credit: (c) 2021 ADRA: Moises Pinto & Marsaulina Pasaribu
---